Girl Power…a Summer Day with Girl Scouts!
Such a wonderful day spent sharing the world of Camellia N. with these bright and inquisitive girls! They fell in love with Camellia N. and her friends and just couldn't wait to read all of the books. I was impressed that these pint-size leaders actively recycle and embraced all of my tips for helping the environment. Together they are committed to educate others and make a difference in our planet!
Meeting with international press was Awe-Inspiring!
Honored to be invited as one of the select few to ever return as a special guest on the Environmental Directions podcast.
Interviewed by no-nonsense broadcaster, educator, environmentalist and eco-leader, Nancy Pearlman.
Valentine Wishes & Adventurous Dreams…
Camellia N. Books are so cal's #1 FAB FIND!!!!!
xoxoxo
Wishing you ALL the magic of the HOLIDAYS!
Jingle ALL the way…
a special Thanks to Mom's Choice awards for choosing all three Camellia N. books for their holiday showcase 2018!
"I never met a REAL author before!"
It was a simply perfect rainforest event…complete
with hugs, giggles & signing books! xo
Join the Adventure…
Meet Me, Camellia N., QTipp, Otto & Jacki at
The Rainforest LAUNCH Event!

special guest stars: comedians Ryan & Craig will be doing a very special live read, too!
School Days…School Days! such an honor to Kick off
the Las virgenes school district READATHON!
so many students already were fans of camellia n. :-)

"Imparting a sense of wonder about the earth's beauty, Camellia N. is an upbeat and curious picture book. Debra L. Wideroe's cheerful and educational
The Adventures of Camellia N.: The Rainforest melds fun facts with friendship."
– Foreword Clarion Reviews

Camellia N. Meets the Press @ the LA Press event- 10/18
A huge thank you to all the press who stopped by
to meet me…and camellia N.
Your enthusiasm was overwhelming!
"Every child needs to read Camellia N."
"I love that a book teaches love & appreciation. We need that in our world!"
"This is so brilliant. Camellia is adorable… a character who is lovable and will change lives!"
"This is fresh and timely. We actually haven't been this excited about a property in years!"
"I expect big things for Camellia and her friends and can't wait to see where this goes!"
"Debra L. Wideroe has used her imagination to transport the young reader with Camellia N. on a journey of adventure that is delightful."

It's Kind of Magic!
Camellia N. is the only children's book showcased
at the ALA in the coolest technology...the MagicBox!

Bay Laurel ELementary Global Pen-Pal Group!
It was SO exciting to spend a day with the Chikumbuso (Zambia, Africa) pen-pal class in Southern California.
Not only did these superstar 4th and 5th graders learn about our environment and water... but were further inspired to weave recycled plastic bags into artwork by their amazing teacher! The students shared
HOW much they learned about the planet. They discussed the necessity to recycle, reuse and repurpose items and how they learned "we are all the same no matter what side of the world we live on!" As many of the students graduate to middle school, they take a piece of Camellia N. with them!
# priceless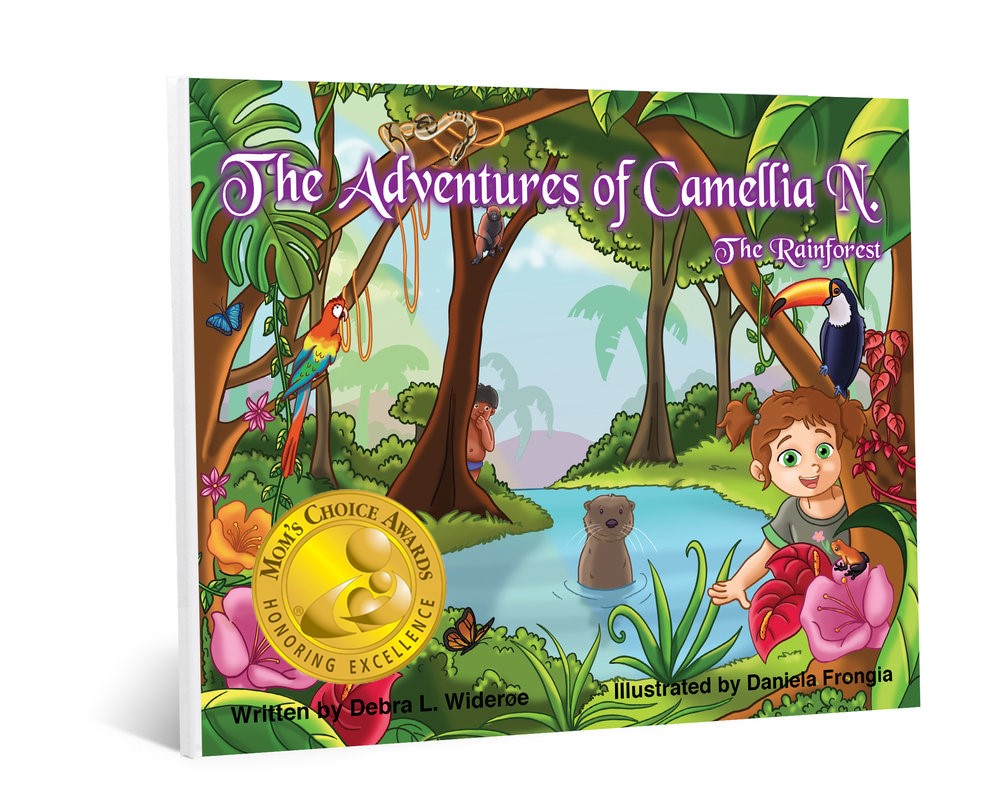 I am so HONORED to announce that BOOK #3, The Adventures of Camellia N. - The Rainforest just won GOLD! All three books are gold recipients of Mom's Choice Awards for excellence in family-friendly media. On shelf October 2nd.

But, OH, those SUMMER Days!
A VERY fun Saturday spent signing books, giving hugs, and showcasing
Camellia N. books as part of the LVUSD Summer READING Kickoff! As the ONLY Author invited, Camellia N. took CENTER STAGE and the kids just couldn't get enough of her. One little girl even kissed the Camellia N. standee :-)

such an honor having my book series Featured in this
very special edition!
Look! I'm on Mister Roger's Sweater!!!
https://www.storymonsters.com/book-briefs/debbie-wideroe-inspires-eco-awareness-with-childrens-book-series

Pepperdine University Drescher Library
earth day - Author Event
Our youngest Camellia N. explorers...and their families SO enjoyed The Arctic reading, and loved learning all about Under the Sea. We discussed Earth Day, living in Malibu by the sea and what they can each do help the planet! The children were excited to get a sneak peek at my latest book, The Rainforest, and just couldn't wait to hear about Camellia N.'s newest
rainforest friends, Otto, Jacki and QTipp.
Willow Elementary
Camellia N. and I had SO much fun with the super students at Willow Elementary School. They had already read my books AND knew quite a bit about the environment!! The students were excited to give suggestions on where Camellia should travel to next... Africa, Israel, India, Bhutan???? I might need to plan for even more books :-)
Steamboat Springs
What a Winter Wonderland! Camellia N. had a snow-filled adventure in Steamboat Springs where she met hundreds of horses, discovered footprints from a mysterious friend in the snow and visited her books at the very charming...Off the Beaten Path Bookstore.
ALA Mid-Winter Conference!
Camellia N. took the mile-high city by storm! Librarians and educators from across the country stopped by for a meet & greet with the author and learn about Camellia N.'s mission to save our planet. It was such a success that we held a 2nd book event the following day. Thank you to all of you who waited in the long lines to meet! xo
Norwegian Adventures!
This VERY snowy winter, Debbie (and Camellia N.) traveled back to one of her favorite places -- The ARCTIC! Such a wonderful holiday...making new friends and connecting with old friends, including one of our favorite Norwegian teachers (and part of the Camellia Kid's Care Pen-Pal program), Magnus! What a PERFECT way to end 2017 and usher in the new year; 2018 here we come!
Viewpoint School Winter Bookfair
What a fantastic way to end 2017! Thank you Viewpoint School (and Barnes & Noble) for inviting Camellia N. to your annual Winter BookFair! I loved meeting each of you... and had such fun signing your books! I hope you all have a great holiday with Camellia N. and can't wait to see you again in 2018!!
Children's Scholarship fund
I am a teacher at heart and honored to work with the Children's Scholarship Fund (CSF) helping to spread the joy of reading! A heartfelt THANK YOU to CSF for their support of my book series and for teaching children the importance of taking care of our extraordinary planet.
And the winner is...
The Adventures of Camellia N. - The Arctic won FIRST PLACE in the Royal Dragonfly Green/Environmental Book Awards which honor excellence in literature. Thank you for believing in the power of green... and for supporting my book series!
The Morning Blend on KTNV!
Camellia N. is making moves! Straight from NYC, she stopped by KTNV The Morning Blend Tuesday, November 8th with Jennifer Shultz!
A portion of proceeds made from sales are being donated to the Las Vegas Victims' Fund. I hope you watch this segment and choose books for yourself or as a gift for the holidays! Let's support Las Vegas and help raise funds!
Under The SEa in NYC!
Camellia N. took New York City UNDER THE SEA Saturday, November 5th!
It was SO heartwarming to see how children, parents, educators and friends loved Camellia N.'s adventures. The children couldn't get enough of Camellia's underwater friends. I think the very cool Barreleye fish was a fan favorite, along with the Maui Dolphin!
A huge THANK YOU to everyone for being a part of Camellia's world! A special thank you to the Children's Scholarship Fund of NY, Reading Rescue and the incredible Maya Gittelman of the Barnes & Noble Upper West Side for your support! xo
"Miss Captain Planet" on BOLD TV!
I had the privilege to share Camellia N. on Bold TV during my recent visit to NYC! Hosts Clay Aiken and Carrie Sheffield and the entire Bold TV staff were truly amazing!
Thank you again for the opportunity to share my books and vision with Millennial Moms. You rock!
Shelter Hope Animal Appreciation Day
Camellia N. and Friends made a local splash at the annual Shelter Hope Animal Appreciation Day event in Thousand Oaks, CA! Dogs, cats, Shetland ponies and falcons made an appearance, as well as Camellia N.'s new plush conservation critters!
Under The Sea Launch Event!
Debbie debuted her latest adventure, Under The Sea, on September 16th to a packed house of The Adventures of Camellia N. book lovers! Joining her was Georgienne Bradley of Sea Save who shared her love of the sea, sharks and especially Nails, Camellia's hammerhead friend. A warm THANK YOU to Barnes & Noble for hosting the event... and for everyone who attended making it even more memorable! xo
Malibu Times MAgazine Feature!
Thank you, Mom's Choice Awards, for the wonderful interview!
Mom's Choice Awards is excited to announce another post in our interview series where we chat with the inventors, designers, publishers, and others behind some of our favorite family-friendly products.
The Reviews are in...Thank you for the 5* REVIEWS!
'Under The Sea' Won the Prestigious Mom's Choice Gold Award!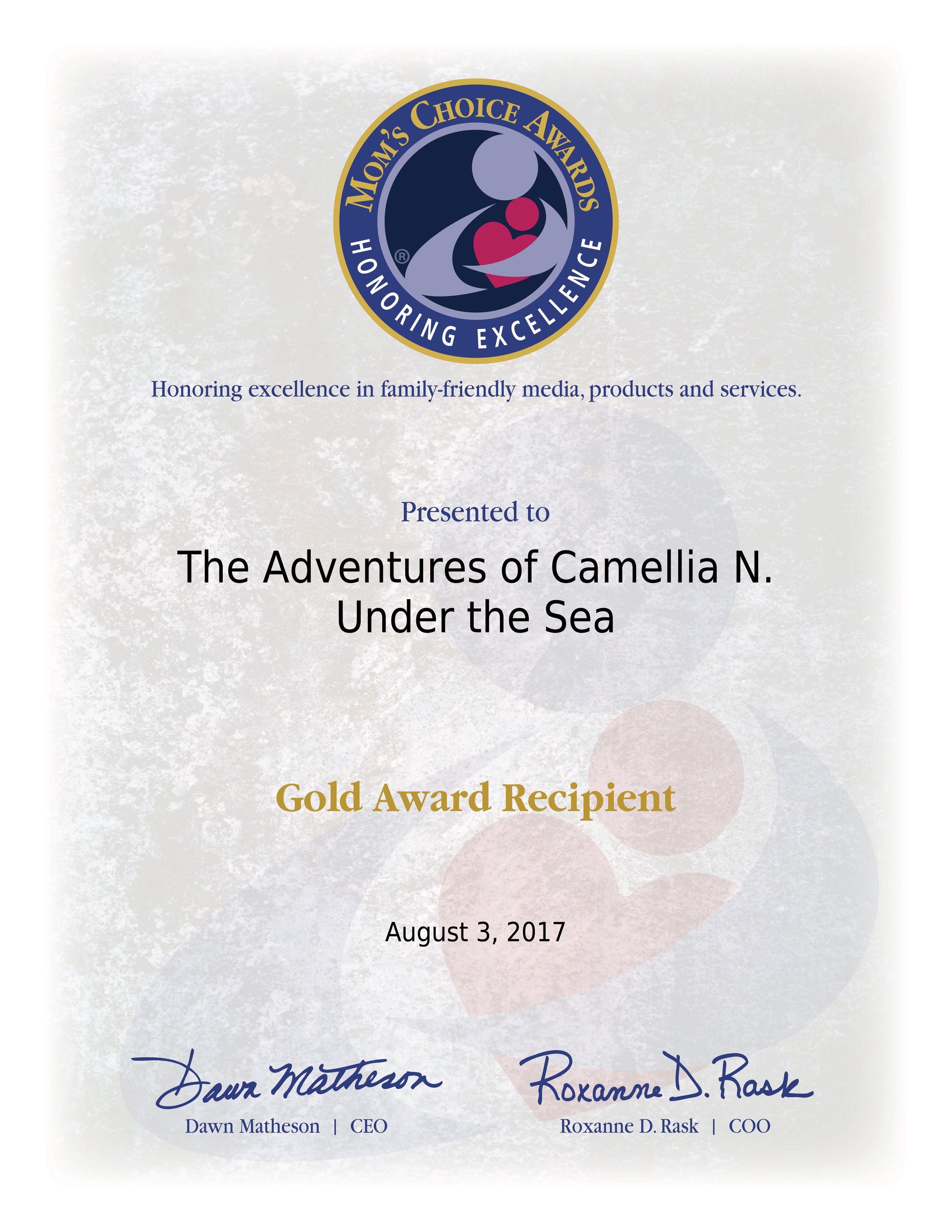 We are so honored to announce...Mom's Choice Awards has awarded book two of the series, The Adventures of Camellia N - Under The Sea ,with its highest honor - its Gold Seal! This book joins the first book, The Arctic, winning gold! The Mom's Choice Award program is globally recognized for establishing the benchmark of excellence in family-friendly media, products and services.
Weekend Jaunt's Favorite New Kids Book List! - July 2017
Macaroni Kid Loves Camellia N. - June 2017
Camellia N. Celebrates Earth Day!
We made our planet VERY proud this Earth Day! A special thank you to Barnes & Noble for this special story time event and to all of the families who came from near and far to attend! Explorers of all ages engaged in a lively discussion about Camellia N., her quirky friends and, of course, caring for our planet.
Earth Day Celebration Event at Barnes & NoBle!
To celebrate my favorite holiday, I will be hosting the Earth Day Celebration Storytime Event at Barnes & Noble this Saturday, April 22nd at 11:00 am! For more details, please see our Facebook event page or the article link below.
ADVENTURES IN TEACHING - ON THE RIGHT ROAD PODCAST
I had the amazing opportunity to join Paula Phillips, host of "On The Right Road" Podcast, for a spirited discussion about my book series. There truly is an adventure around every corner! Stream the whole interview below...
Sundance Film Festival - Camellia N. Book Event
Snowfall, hot cocoa and Rob's lively reading (as only he can do) made The Adventures of Camellia N. Book Event such a treat! A special Utah thank you to the Silver Baron Lodge and to the very popular King's English Bookstore in Salt Lake City for hosting this special day!
"A Must for Every Child's Library..."
Read why The Adventures of Camellia N. is a great gift for any occasion!
The Adventures of CAmellia N. is the perfect Holiday Gift!
Lupin Hill ELEMENTARY SCHOOL Author Visit - December 9th, 2016
It's Friday Fun Day! Sharing The Adventures of Camellia N. with superstar 1st, 2nd, and 3rd grade students at Lupin Hill Elementary School in the Las Virgenes School District. Students had SO much fun learning all about the Arctic (and learning what they could do to make a difference). The students even learned to make Beluga sounds! A special thank you to the Lupin Hill staff, teachers, librarians and students for making this event such a great success! I will miss the enthusiastic questions...and, of course, the many hugs!
Barnes & Noble Santa Monica Book Event & Signing -
november 5th, 2016
Camellia N.'s adventure to sunny Santa Monica was filled with story-telling and wildlife education! We were thrilled to have Susan Hartland of Wildlife Waystation and Erwin Vermeulen of Sea Shepherd join us and speak on wildlife conservation and the importance of raising awareness among children and educators worldwide. Thank you so much to everyone who made this event so memorable!
All Beautiful Mommies Loves CAmellia N.!
The Pepperdine Graphic - October 27th, 2016
Most can recall a favorite book from childhood, be it the whimsical rhymes of Dr. Seuss or the mischievous undertakings of the Berenstain Bears. Debbie Wideroe, visiting professor of Communication and director of the Communication Division Internship Program, understands the critical role stories play in children's growth and development, which is why she recently added "Children's Book Author" to her list of titles.
Specifically, Wideroe aims to educate children about the environment, wildlife and natural resources. Her first book, "The Adventures of Camellia N.: The Arctic," is the first book in a nine-part series. "This book not only educates and entertains but encourages children to become global ambassadors,"...
Camellia N. Visits Loma Verde Elementary SCHOOL -
October 14th, 2016
200 children, dozens of hugs, and lots of Beluga whale sounds later...Debbie Wideroe had her first "Author Visit" to Loma Verde Elementary School in Northern California. Debbie taught the importance of preserving our environment and wildlife, as well as introduced ways children can do their part at home and at school. We are excited to announce that The Adventures of Camellia N. is now available at the Loma Verde school library.
A very special THANK YOU to the innovative teacher, Ms. Sara Cofiell of Loma Verde Elementary School, who is the very first teacher to launch the Camellia Kids Care GLOBAL PEN-PAL program, teamed with Magnus Bros at the Nidarvoll Skole in Trondheim, Norway. Thank you to both Sara and Magnus for bringing Camellia to life within the classroom!
Barnes & Noble Thousand Oaks Book evenT & Signing - October 8, 2016
Camellia N.'s first BOOK LAUNCH was on Saturday, October 8th in beautiful Thousand Oaks, CA.
The event was a HUGE success! I am thrilled to announce that we officially sold out all in the first hour of the event. I can't thank my supporters and fans enough. Thank you for welcoming the world of Camellia N. into each of your lives.
Camellia N. is in the news! - October 6, 2016
LYNCHBURG MAMA LOVES CAMELLIA N! - SEPT. 25TH
Camellia N. Meets the Press! - September 2016
Camellia N. met the national press at the bi-annual Consumer Product Events in sunny Santa Monica, CA on September 14th, 2016.
The press loved The Adventures of Camellia N., and just can't wait to share it with the world! Both local and national bloggers, publications, and TV networks commended the series for "inspiring children to protect our environment and for promoting the education of a new generation of wildlife and environmental conservationists." Environmentalist, Nancy Pearlman's interview follows.